This shop has been compensated by Collective Bias, Inc. and its advertiser. All opinions are mine alone.
#

SkinEssentials
#CollectiveBias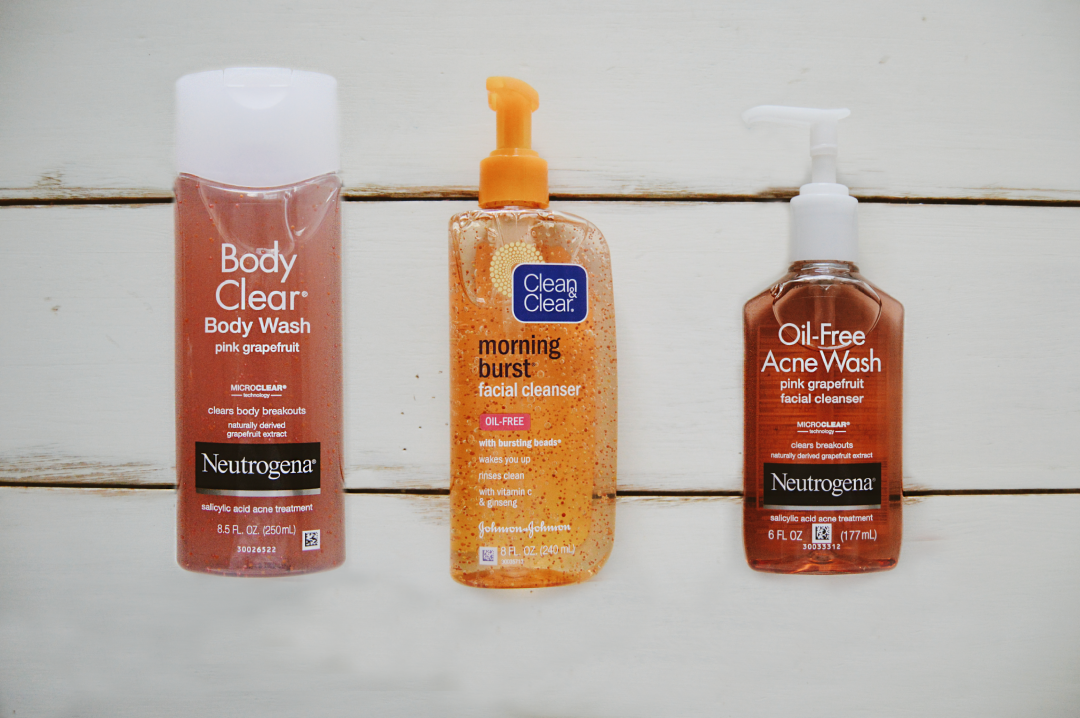 Isn't it crazy how the summer has just flown by? Little ones are already heading back to school, and so many others are heading back to college! Before we know it, the weather will be cooling off and it'll be all about studying and learning again. This year my step-daughter will be heading back to college for another year towards her psychology degree, so
I want her to have all the best essentials to keep her looking and feeling great while she's hard at work filling her brain with
knowledge, and that's where a back to college care basket comes in handy! Filled with great items such as
Neutrogena® Oil-Free Acne Wash Pink Grapefruit Facial Cleanser,
Clean & Clear® MORNING BURST® Facial Cleanser and
Neutrogena® Body Clear® Body Wash - Pink Grapefruit
, as well as
some other fun, useful and thoughtful items. I'll leave a list of i
tems that are perfect for a back to college care package below so you moms of young ladies headed off to or back to college can create your very own are package! You can even click on the shoppable image above to purchase the skincare items!
We all know that studying for exams and tests can be a bit stressful, and stress can lead to breakouts, the great thing about a few of the products I've included in this basket, is that they stop breakouts in their tracks!
W
hile at Target (which is where I found all of the items in this basket btw) the other day I spotted these Neutrogena® and Clean & Clear® products (found in the skin care/complexion care aisle at Target) and thought they'd make the perfect addition to the basket. The smell of grapefruit is one of my favorite scents so that's what initially drew me in to the
Neutrogena® Oil-Free Acne Wash Pink Grapefruit Facial Cleanser, but once I looked at it a little closer, I realized how great it was! With an uplifting and refreshing pink grapefruit scent, it also contains
maximum strength Salicylic Acid acne medicine boosted by MicroClear® Technology. This formula is great for powerfully treating and preventing
breakouts (even blackheads) and the unique formula contains naturally derived grapefruit extract (seriously the best), as well as vitamin C, and it eliminates oil and dirt on skin, it also rinses clean without over-drying which I love!
The other pink Grapefruit scented item I chose was the
Neutrogena® Body Clear® Body Wash - Pink Grapefruit! Talk about smelling yum! This clean rinsing and oil free acne treating body wash helps treat body acne (specifically breakouts such as breakouts on your back, shoulders and chest) with top strength salicylic acid acne fighting medicine. The naturally derived grapefruit, plus vitamin C combined with the salicylic acid are perfect for lathering up from head to toe for bubbly clean!
And then we all know mornings are difficult after staying up late (as a mama to a little one I know that especially), as with mamahood and with staying up late studying while in college, late nights and early mornings go together a lot, so when I spotted this
Clean & Clear® MORNING BURST® Facial Cleanser I knew my step-daughter had to have it, and I also grabbed an extra one for myself! This unique gel facial cleanser is filled with yummy smelling and nutritious ingredients such as Vitamin C and Ginseng to wake you up in the morning with a fresh citrus scent while the
soft BURSTING BEADS® burst with energy and vitamins, leaving your skin feeling clean, energized and ready to face the day!
In addition to these great skincare items, what are some thing that go well in a college care package gift basket? Here's a list below of some of my favorite things to include in gift baskets and are all things that I personally would enjoy receiving, so you know they're good! Lol.
•

Page Stickers
•

lip balm
•

hand lotion
•

nail polish
•
mug
•
cute jars
•
fresh flowers
•
gift cards
•
wooden (or marble) serving board
•
essential oils
•
essential oil diffuser
•
candy
•
glass water bottle
•
hair ties
The first thing to start with when creating a back to college care package/basket is find a cute basket (if you'll be giving it to them in person) or a cute box (the post office always sells cute boxes that are great for things like this) and start there! Next fill it with all the cute things you know they'll love! For this back to college care basket, I wanted to go with a more sophisticated and homey feeling theme and I just love the way it turned out! I included pomegranate chocolate candy in an adorable jar with ribbon tie around it, gluten free chocolate chip cookies in a hermetic jar (those jars are my absolute favorite, and let's face it, gluten free cookies are the best), the perfect skincare items from Neutrogena® and Clean & Clear®, pencils, sticky notes (perfect for writing class notes on), a wood and marble oval serving board (great for entertaining or just sitting on the countertop to look pretty), a lovely copper mug (can you even imagine how perfect this will be for pumpkin spice lattes in the autumn?), a cute tea towel (the farm theme is what sealed the deal, can you even deal with the cuteness? Another plus is that my step-daughter loves the farmhouse style just like I do), a yummy smelling candle (who can pass up toasted marshmallow scent? Everyone loves toasted marshmallow), a notebook (that could be used for taking notes, writing to-do lists, journaling, doodling, the list is endless), and page flags (which are great for keeping your spot in textbooks)!
Don't forget to downloa
d and check out the great deals Target is offering on the skincare items on Target's cartwheel app during the month of August:
Buy 3 Neutrogena® facial skincare product, get a $5 gift card, or
Buy one Clean & Clear® product, get one 25% off! For great savings on makeup, make sure to stop in at Target
this weekend, Thursday-Sunday (and every weekend in August) to s
ave 20% on Neutrogena® cosmetics on Cartwheel.
The fun thing about creating and curating gift baskets and care packages is
how you can personalize and customize every single element of it, ensuring allll of the items are things are things that they'll absolutely love! Do you have a friend, niece, daughter or step-daughter heading or to or back to college this year? Will you be crating a care package or care basket for them?
This post is sponsored by CLEAN & CLEAR® and NEUTROGENA®. I only recommend products I use personally and believe my followers will also enjoy! Some of the products mentioned were provided by CLEAN & CLEAR® and NEUTROGENA® for this review.